Services:
Physical, chemical and
microbiological analysis
Electro-safety tests
Electromagnetic compatibility
tests
Energy and noise tests
Read more on :
We ensure the service of taking information in electronic mode, exclusive in Romania for this domain. details
Consulting and
laboratory arrangements
LABOREX offers Consulting and arrangements for the laboratory. details
Research
The main responsibility of the research department is to upgrade all technical equipment of our laboratories. details
Clients Login

Electromagnetic compatibility tests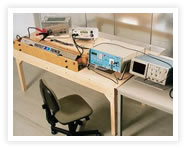 The Electromagnetic Compatibility Laboratory is based on a semi-anechoic chamber for 3 m measuring distance, with dimensions 8.5 m × 5.2 m × 5.6 m (L×W×H) lined with ferrite absorbers and two shielded rooms for instrumentation. The semi-anechoic chamber is designed for emission and immunity tests up to 1 GHz and will be up-graded in the near future for tests up to 18 GHz, by supplementary lining with pyramid absorbers.

The Laboratory is designed to perform full compliant electromagnetic compatibility tests in the whole frequency domain from 0 Hz up to 1 GHz especially for household appliances, electric tools and similar apparatus.
The electromagnetic compatibility tests covers a very broad spectrum :
Emission measurement of conducted radiofrequency disturbances
Emission measurement of radiated radiofrequency disturbances
Emission measurement of radiofrequency disturbance power
Emission measurement of low frequency conducted disturbances (harmonics, voltage
variations and flicker)
Immunity test to radiated, radiofrequency electromagnetic fields
Immunity test to conducted disturbances, induced by radiofrequency fields
Immunity test to conducted transient disturbances (ESD, bursts, surges)
Immunity test to low frequency conducted disturbances (voltage dips, short interruptions
and voltage variations)
These services are oriented to producers and importers of :
Electronic products
Household appliances
Information technology equipment
Telecommunication equipment

Lighting equipment
Electrical tools, industrial and commercial
equipment
Medical electrical equipment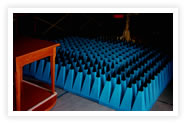 The equipment that we use for tests is metrologically tested and our laboratory staff provides the tests and analysis in the best conditions guarantying the confidentiality of the results.

By requesting our services you win time and you verify your products according to the Romanian and international legislation.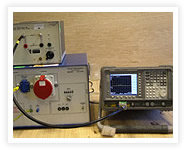 You can solve all your problems that concern your products' quality by phone calling us. At your request, one of our company's agents will come to pick the testing products from your headquarter. These products are tested in the laboratory in the shortest time and the analysis reports are brought back to you.


Besides competitive prices, our company is offering you discounts of 10-50%, depending on the number of analysis and tests that you request.

We offer free consultancy to our customers in order for them to have all necessary documents that acknowledge the quality of their products.

If you choose our offer you can have earlier results of tests and you can bring your products on the market very quickly without penalties from Quality Checking Organizations.